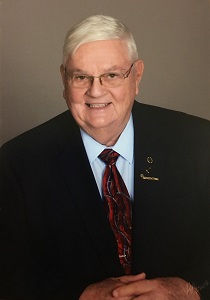 Don Sievers
Don joined the Optimist Club of Jackson, Missouri on January 1, 1977 and continues to serve on the Club's Board of Directors. He has served as East Missouri Governor (1993-1994), as OI Vice President (1999-2000), and as OI President (2008-2009). In addition, Don has served on numerous international committees. He is currently a member of the OI Foundation Board.
Don has always lived in Jackson, Missouri and has been married 57 years to his Wife Anita. They have 3 married children and 9 grandchildren.
In 1989, Don retired as a Colonel after 30 years of service in the Missouri Army National Guard. Later he retired in 2001 as CEO from Associated Sheet Metal, Inc., a company he founded in 1977.
Don now enjoys spending time with his grandchildren and his hobbies (row crop farming and antique cars and tractors). He continues to be a "volunteer" at St. Paul Lutheran Church in Jackson and the Optimist Club.