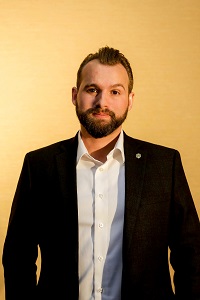 Ben DeRemer
Like many of you, I joined my Optimist Club to better serve the youth in my community. It has been with the help of the Optimist International Foundation that we continue to serve thousands of youth in our area each year. I hope to be able to serve you and your Club in helping to support the youth in your community by serving as a member of the Optimist International Foundation (OIF) Board of Directors for the 2021-2025 Optimist years.
When serving two terms as a District Governor and a District Foundation Representative (DFR), I focused on the relationships that we build within our communities and our Clubs. My belief is that in order to grow as an organization, and in order to grow our Foundation, we must work to build upon the relationships with our Members. Engaging with our Clubs and telling the stories of how the Foundation has helped countless communities is essential in connecting with our Members. Each year, the Foundation provides dozens of grants for new projects, Childhood Health & Wellness, and Disaster Relief, but few Clubs know they exist, and even fewer Clubs apply for them. The funds that you donate to the Foundation support these programs, and it is our job to ensure your Clubs know they are available.
I am passionate about these programs and in ensuring each Member and Club has the opportunity to participate in them. The Foundation also supports the scholarship programs involved in our Districts, funding the Essay and Oratorical programs. One program that differentiates us from the other service organizations is our Communications Contest for the Deaf and Hard of Hearing (CCDHH). This is a program that I genuinely believe in, and I plan to do all I can to better represent it on the international stage through the Foundation.
I support the Foundation as a President's Club Member, Christian D. Larson Partner, and Women's Philanthropy Council Member. Currently, less than 6% of our Optimist Members donate to the Foundation at the Dime-a-Day level, and I truly believe that if we can engage more Members to support the Foundation, there is no telling what we might be able to accomplish.
I have an extensive background and working knowledge with several other local, national, and international foundations outside of Optimist International. Through these experiences, I have learned about various programs that can help to increase our donor base, donor engagement, and stakeholder management. I have been a Distinguished Foundation Representative with not only the Optimist International Foundation (OIF), but the Canadian Children's Optimist Foundation (CCOF) as well. Within the Foundation Board specifically, I can use my skills and background within Organizational Effectiveness and Management to help support the efforts and growth of the Foundation programs and goals.
We have faced much uncertainty and turmoil within our communities at home and all over the globe this past year. As Optimists, we act as a beacon of hope for those around us. The Optimist International Foundation acts as our main vehicle allowing us to help others, and I hope to be able to serve you in this endeavor if elected to serve on the Board of Directors. I believe that the passion, enthusiasm, and excitement that I bring with me, and my philosophy of building a stronger relationship with our Clubs and Members, will help to launch the Foundation into the next 50 years of service.
Thank you for being a part of this process in electing the members of the Board and thank you for your continued support to the Foundation and the work it does in our communities.