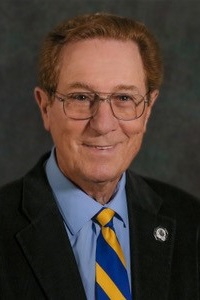 T G Thomas
I welcome the opportunity to serve the members of the Optimist International Foundation (OIF) as a Member of the OIF Board of Directors, beginning with the 2019-2020 Optimist Year. I have been a staunch supporter of OIF for nearly as many years as I have been an Optimist, having served as Club Foundation Representative (CFR) for all of those Clubs in which I have held Membership, often for multiple years in each case. I have also served three non-successive terms as District Foundation Representative (DFR) for the Pacific Southwest District, twice earning Distinguished status, and once accomplishing the greatest percentage increase in donations for a District for one year. I have served multiple terms as Optimist Club President, on various District Committees, often as Chair, as Lieutenant Governor on multiple occasions, as District Governor, and I am currently serving as Optimist International Vice President, West Coast Region. In the aforementioned positions, skills needed to serve on the OIF Board have been honed and greatly enhanced.
Additionally, I have served on non-Optimist Boards, such as the Porterville High School Academy of Health Sciences Advisory Board. I am a retired United States Army Veterinary Officer, as well as a retired Community College Professor. During my Community College Career, I served for five years as Dean of Science and Health. I am a Presidents Club Member, Christian D. Larson Partner, and William H. Harrison Society Member, and will reach Bronze Benefactor Level prior to the 2019 Centennial Celebration in Louisville.
I am especially passionate about OIF's new emphasis on Childhood Health and Wellness. My background, in addition to that described above, is largely in Public Health, with an emphasis on preventable childhood diseases, such as diabetes, cancer, and cardiovascular diseases.